Have we have lost our collective story?
The Democracy Box is a year long politically neutral and non-party political research and development project.
It aims to develop prototypes of public and educational information campaigns which create a better basic understanding of our Welsh and UK democratic systems and structures by a wider percentage of the population.
These ongoing year round public and educational information campaign prototypes could potentially increase civic engagement and be developed and replicated across the UK.
The Democracy Box is a Clwstwr funded R&D project.
Watch the feedback video from our young co-creators from phase 1 earlier in 2020 here
What is needed and Why?
"Across the world young people are realising that democracies have failed them and future generations to come on issue like climate change, jobs and skills and wellbeing. Part of this problem may be that our education system does not provide enough support to young people to help them understand and engage with democratic systems or processes. The holistic nature of the new curriculum provides an opportunity to address this but teachers and learners must be supported to find creative ways to.  This programme is a way of doing exactly that" Sophie Howe, Future Generations Commissioner for Wales
A better understanding of the UK democratic systems and structures by a wider percentage of the population is required.
Listen to the young co-creators talking about the first phase of this project on this mini podcast.
The seed  phase R&D confirmed that the majority of Welsh and UK citizens do not have a sound basic understanding of the UK democracy and how local, devolved and Westminster Governments all fit together and why.
How do we captivate and engage an audience of millions and include young co-creators/curators and intrigue everyone enough to want to engage with and participate in our democracy all year round and not simply at the ballot box?
Because if we get that right, we think higher engagement and therefore voter turnout will follow.
The preliminary seed funding research confirmed two things are needed
A Public Information Campaign
An Educational Information Campaign.
What might they look like? Well they need to be sustainable and ongoing and all year round and what and how is exactly what this second stage of our R&D is exploring.
Together with our collaborators Omidaze is exploring four things.
How to support this information being embedded into the new Welsh Curriculum from years 5 – 11 and create training and toolkits for teachers.
The old style Public Information Films and how to create a version for now which would be broken up into different lengths and formats and sit on multiple media formats from broadcast to social media platforms.
How to support the creation of a public facing hub or one stop shop which can also be that teacher toolkit and be where the Public Information Films sit and can also signpost to all the already brilliant existing content AND enable people to navigate their way through the ever growing democracy sector.
How to launch and then support all this with live and ongoing public events.
You can watch our presentation of our phase one work here and the initial young-co-creators ideas.
By knowledge of our democracy we do not mean party politics
Although the need for neutral factual information about the main political parties which is not linked to election campaigning came up regularly.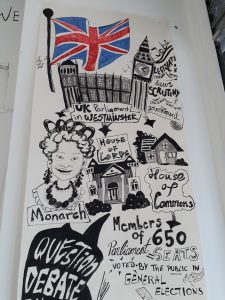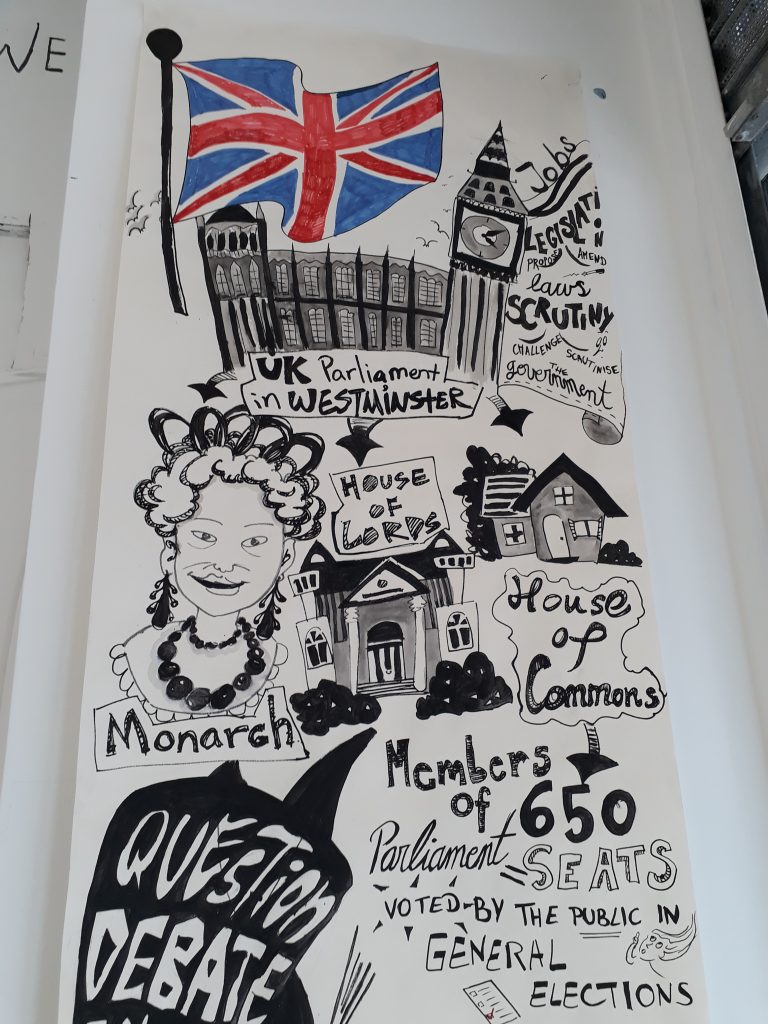 We mean informing and educating people about the neutral nuts and bolts. The difference between local government, devolved and Westminster. The difference between the First Minister and the Prime Minister and between an MS , MP and a councillor and what they are each responsible for. Understanding First Past the Post vs Proportional Representation and what a constituency is and what things are devolved in Wales and how laws are made and by whom and what our taxes pay for and who decides and what even the word democracy itself means and how we can get involved and have our say all year round and not just on election days.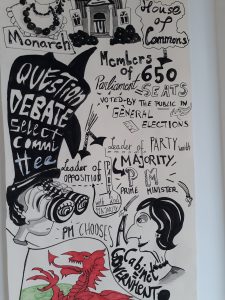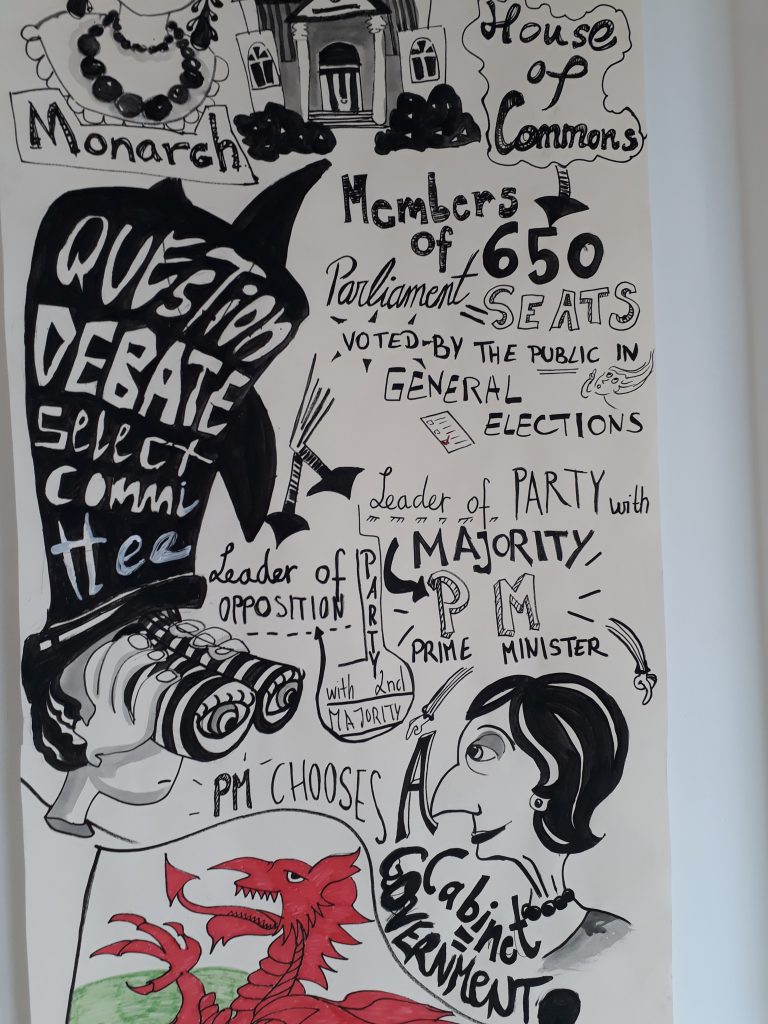 At the core of this project are the young co-creators including those from low turnout constituencies, who will co-create and co-curate new forms of engagement with democracy.. Ten young people aged 16-30 were involved in phase one. Some of those will join us in this second stage along with some new young people. There will be an open call out to recruit them.
THE DEMOCRACY BOX CONFIRMED COLLABORATORS so far are…
Sophie Howe, Future Generations Commissioner for Wales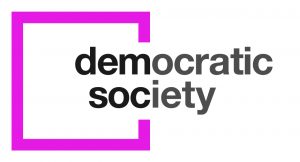 The Senedd Cymru/ Welsh Parliament Engagement Team
Electoral Reform Society Cymru
The Democracy Box Clwstwr Co-Investigator is Richard Sambrook.
In the meantime if you want to find out more about your elected representatives and the UK Democracy all fits together have a look at our collaborators above and these very useful links
If you would like to collaborate on this project, have a conversation or have any information you would like to share please email Yvonne at y.murphy1@ntlworld.com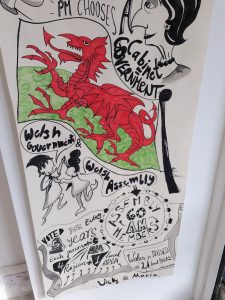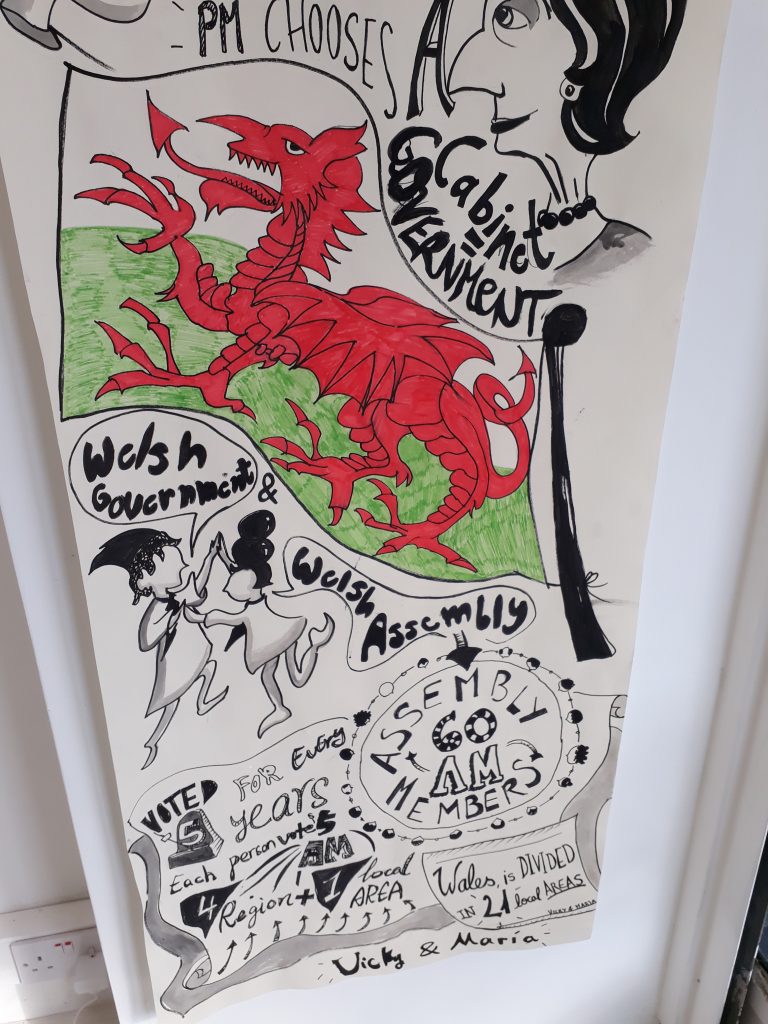 Links to Existing Content which explains our Democracy which contributed to research
And here are some links we looked at in phase one to existing content that explains our democratic systems and structures with some comments by the young co-creators. We think there needs to be some signposting and curating of all this. Let us know what you think.
5.Houses of History – Explore the story of Parliament and democracy Westminster Resource
https://www.youtube.com/watch?v=lRLRhDB-HxE
5.5. Proportional Representation https://www.electoral-reform.org.uk/voting-systems/types-of-voting-system/additional-member-system/
8.      National Assembly for Wales – Who we are and what we do (assembly resource)
https://www.youtube.com/watch?v=EtRSqnJ1bEM
9.      Wales 2016 – How your vote works (Assembly resource)
https://www.youtube.com/watch?v=coGTP4172uE
Democracy in the UK today University of Leeds https://www.youtube.com/watch?v=VKCd0pTCLfM
11.  What is democracy? – with Danny Wallace Westminster Resource
https://www.youtube.com/watch?v=LX1Ul0oX9DY
13.  AFP News Agency following 2015 General Election Britain's political system explained
https://www.youtube.com/watch?v=HkfC8J95lGw
15.  Learn English with Gill. Learn about the UK political system & elections
https://www.youtube.com/watch?v=f98HtyjcWxE
16.  The Daily Show – Democracy in the U.K. – Road To…Wait That's Where the Prime Minister Lives
https://www.youtube.com/watch?v=GmYfjFSdFcQ
15.  A brief history of representation, from monarchy to democracy
This video is from https://www.futurelearn.com/courses/i… 'Introduction to the UK Parliament: People, Processes and Public Participation' is a free online course created by the Houses of Parliament on FutureLearn.com https://www.youtube.com/watch?v=JYYq1yDSfqc
16.  Elections and voting explained (primary) Westminster Resource
https://www.youtube.com/watch?v=ZN0qP0vRqVE
17.  Brexit explained: what happens when the UK leaves the EU? Channel 4 News
https://www.youtube.com/watch?v=7eoDwvl0QGk
30. Democracy Is Dead. What Now? | Russell Brand & Prof. David Runciman
https://www.youtube.com/watch?v=2dLN3cvOEZg
 31. Institute of Economic Affairs Realignment: The future of British politics
 https://www.youtube.com/watch?v=ciEkx3uEgMM
32. The Difference between the United Kingdom, Great Britain and England Explained GCP Grey This should be played in every class in every school over and over and then interrogated!
https://www.youtube.com/watch?v=rNu8XDBSn10
https://www.youtube.com/watch?v=7eoDwvl0QGk "I've come across the YouTube channel TLDR News, (TLDR meaning: too long, didn't read)  I think the name is a great start because it's direct and a lot of people don't watch the news because the content isn't always easy to follow. Likewise, in reading news articles. Their introductory video is so punchy, encouraging you to want to stay in the loop without feeling out of your depth with information." Young Creator
"TLDR News has a parliament explained section as well as current news affairs that are discussed and broken down simply. They also post articles about the topics they discuss in their videos. "https://www.youtube.com/channel/UCSMqateX8OA2s1wsOR2EgJA
Who sits where in the house of commons TLDR https://www.youtube.com/watch?v=3P3THUM62MY
Young Co-Creator – "Some of the episodes I've watched are":
43. John Cleese: we need Proportional Representation to #MakeVotesMatter
https://www.youtube.com/watch?v=VkbAmRv3wrs
"This is an article on how celebrities were using their platforms to engage voters during the last general election" Young Co-Creator: