Dick Johns aka Dick Bradnum
Actor, Writer, Facilitator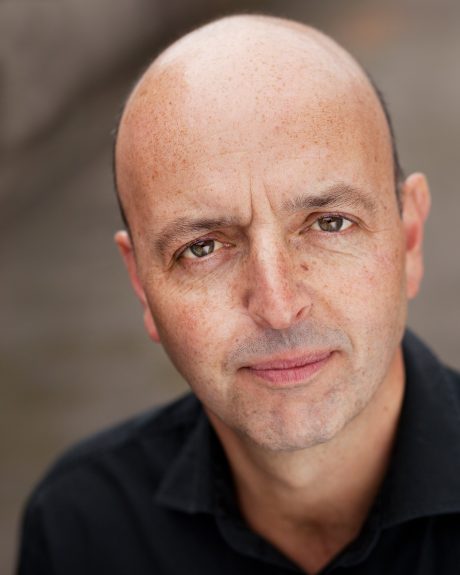 Dick's Biography
Dick is an actor and a writer. His acting credits in a career spanning 25 years include Romeo and Juliet and Macbeth for the English Shakespeare Company and Malvolio in Twelfth Night for York Theatre Royal. Television includes The Office, My Hero, High Hopes and Belonging (BBCTV) and Caerdydd (S4C).
Dick has appeared in many Radio Dramas for Radios 3 and 4, and was for several years a compere on the comedy circuit. In 2016 his one-man show Dick Johns What Midlife Crisis? played to sell-out houses at Chapter, Cardiff; and the sequel Let's Talk About Death, Baby played at the same venue in September 2018.
Dick has 25 years of experience as a facilitator, designer and role player across public and private sectors for clients as diverse as Marks and Spencer's, RBS, the NHS, AstraZeneca and South West Trains. He has been lead facilitator on award winning leading edge customer service training for Specsavers, Sony Games and Arcadia. He has a wealth of experience as a role player on leadership, assessment and development events. He is also an experienced corporate MC and host.
Dick is also the Lead tutor at Young Actors Studio, Royal Welsh College of Music and Drama & experienced Workshop Leader and Facilitator and works across the cultural and corporate sectors for companies including the Royal Shakespeare Company.
Dick writes for stage and short stories and won the 2015 Writers' and Artists' Yearbook Short Story Award for his story 'Joy'. His short story collection Dignity and Other Stories is available to buy at www.dickjohns.co.uk
Yvonne's Biography  – Yvonne read Drama at Manchester University (1988-91) before going on to train as an actor at The Royal Welsh College of Music and Drama (1991-2) and as a teacher of English & Drama at UCL (1995-6). Yvonne has been a freelance Theatre Director, Creative Producer and Creative Practitioner and Consultant since 1992 working across the UK and Internationally.
In 2008 Yvonne founded Omidaze Productions and in 2013 was awarded an Arts Council of Wales Clore Fellowship. Yvonne has been made an Associate Artist of Wales Millennium Centre, Theatr Iolo and Artis Community and has been a board member of Chapter, Cardiff and Awen Cultural Trust. She is an elected councillor for Penarth Town Council and stood as a Parliamentary Candidate in the 2019 General Election and strives to make work which empowers, informs, entertains new audiences, challenges the status quo and inspires positive social change.
Yvonne works across the Cultural & Creative, Democracy and Corporate sectors and is particularly interested in the intersection between Cultural and Democratic Participation, Access and Engagement, Alternative Economic and Business Models and Creative Learning.
During the year-long Clore Leadership Fellowship programme www.cloreleadership.org Yvonne was mentored by Jude Kelly. For her secondment, as part of this intensive development programme, Yvonne was Strategic Lead for the National Arts & Cultural Movement – What Next? This post continued beyond the Clore Programme through until Autumn 2014 and Yvonne remains actively involved as a Co-Chair and Founder of the Cardiff Chapter of What Next?
Yvonne's Creative Consultancy work since 2014 includes Butetown Arts & Culture Association; Theatr Iolo; National Dance Company Wales (NDCW); BBC – Archives Development Report for the Archives Commissioner; Arts Active Trust; British Council; Taking Flight Theatre Company ; Novartis Leadership Programme (Paris & Rome); The Successors of the Mandingue and Re:Cognition
Yvonne's Consultancy work specialises in
Vision, Mission & Values, Company

Business Structures

Business & Strategic Planning

Creative Learning Approaches, Methods & Strategies

Creative Classrooms, Environments & Spaces

Facilitation including Chairing & Open Space events

Teacher Training INSETs & CPD Design & Delivery

Approaches to Co-Creation including with Young People

Widening

Engagement to the arts and cultural sector

Creative process, practice & thinking including the Creative Habits of  Mind
Yvonne is currently working on The Democracy Box and creating and curating The World Has Changed Response #1 A shared learning, development and thinking programme for Freelancers & organisations working in the Live Performance Sector in Wales. The programme is project funded by The Arts Council of Wales Stabilisation Funding
Yvonne's Directing Credits include Omidaze (including co-productions with Wales Millennium Centre), Welsh National Opera, English Shakespeare Company, Sherman Theatre, HTV, Bristol Old Vic, Plymouth Theatre Royal, Whitworth Art Gallery and Bath, London & Edinburgh Fringe. Runner up of the very first James Menzies-Kitchen Award.
Yvonne's Producing Credits include Sticks & Stones (Film –video distribution & Leeds International Film Festival); Live Performance – Theatre, Dance & Circus – Omidaze Productions, Dirty Protest, Paul Evans Circus Choreographer/Director (aka Flying Diplodicus), Krystal Lowe (Choreographer & Dancer) and Endangered Species Productions  including  Edinburgh, London and  European tours and taking the first ever theatre production to the House of Commons.
Yvonne's Creative Learning Work: Designed and delivered Omidaze's annual summer schools and year round workshops and teacher training and is a Creative Agent and Creative Practitioner for the Arts Council of Wales Lead Creative Schools Scheme specialising in Creative Classroom design and use. Yvonne has worked for many of Britain's leading Theatre Company's and organisations specialising in work with young people and training including the Royal National Theatre, The Shakespeare Schools Festival, The Mousetrap Foundation, Bristol Old Vic, Plymouth Theatre Royal, The English Shakespeare Company and Welsh National Opera and  has been a tutor for The Royal Welsh College of Music & Drama's Young Actors' Studio since it began in.
Yvonne also writes. A lot. From speeches to marketing copy to business plans to blogs and proposals and pitches. An experienced fundraiser Yvonne has secured and managed large-scale funding from Kickstarter Crowd Funding, the Arts Council of Wales, The European Social Fund, Paul Hamlyn, Esmee Fairbairn and the Foyle Foundation and thinks she probably could have written a couple of books by now with all the words and time spent on funding applications. Every New Year's Eve she promises herself that this year she will write the book of the first Omidaze show, Things Beginning With M.
Yvonne returned to South Wales from London in 2005 where she now lives with her husband and three children.
Get in touch with Yvonne by emailing y.murphy1@ntlworld.com